Welcome to this website, dedicated to the writing of Martijn Lindeboom and the art of Remco Nieboer.

Your hosts:

Writing and Art combined
Martijn and Remco have worked together for a long time, but only the last few years are they really going for it. In the Netherlands they won a designing/ writing award with their book "the legend of the Black Wolves" (see below), after which they started the Dutch part of this website.
Martijn writes Science Fiction, Fantasy and Horror stories, mostly in Dutch, but sometimes in English as well. Remco is a versatile artist, who dedicates most of his time to Fantasy and Horror paintings, drawings and computer animations. They work together a lot, which results in a well balanced combination of writing and art.
Work in English
Martijn and Remco collaborated recently on a story in English: "Dealing with demons".


It is available through www.twistedshift.com
This story is about Abu, a magician who has tried to steal from a demon, the Incubus Prusallis. Prusallis is chasing him in his dreams, to punish and enslave him. Abu seeks help from the notorious Mistress of the Flesh. But will her powerful and erotic magic save him?
The cover is by Remco. Other artwork will appear shortly on Twisted Shift, starting with his cover of Thom Jaymes' story "Orange".
Artwork
Remco's artwork can be found here: >>
The text is in Dutch, but the pictures do their own talking, so take a look!
It is also possible to purchase artwork on this site, and even to have Remco create a personalised fantasy painting, just for you. Take a look at our webshop.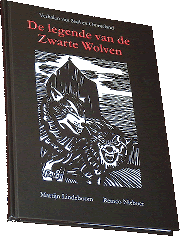 The legend of the Black Wolves
This website was first started as part of a fantasy project, called "the legend of the Black Wolves" (de legende van de Zwarte Wolven). It is the first book of Martijn and Remco. It is only available in the Dutch language. If you can read Dutch, please take a look at the main site (gron-fantasy>>), which is also in Dutch, and much more extensive. There is a lot of information about the legend, events (such as the Black Wolves tour, a citywalk through Groningen, the city in the north of the Netherlands, where Martijn lives) and other stories by Martijn.